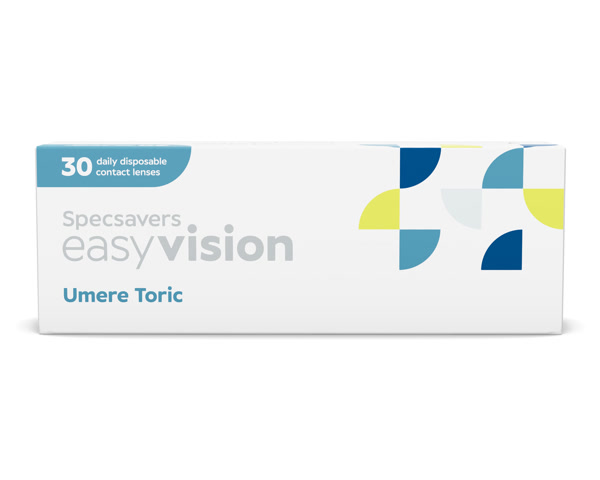 Delivery information
Dispatch for stock orders is normally within 1-2 business days and non-stock orders within 7 business days of order placement. Due to COVID-19 there may be delays on some products.
Orders for mixed modalities of contact lenses will arrive in separate packages.
No worries, no fuss guarantee.
If you have any problems within three months of purchase, we'll put them right.
Details
Specsavers easyvision Umere Toric daily replacement contact lenses are manufactured by Sauflon Pharmaceuticals exclusively for Specsavers and are specifically designed for patients who require correction for astigmatism.

Manufactured in silicone hydrogel, a combination of the healthiest contact lens materials available, Specsavers easyvision Umere Toric lenses have high oxygen transmissibility allowing more oxygen to the cornea than conventional toric contact lenses, resulting in greater comfort and better eye health.

Specsavers easyvision Umere Toric lenses offer UVA and UVB protection and, coupled with Sauflon's Aquagen patented lens wetting process, this ensure continuous wettability of the lens material throughout the wearing time.

Specsavers easyvision Umere Toric are available in a wide prescription range with aspheric optics to provide improved visual acuity compared to spherical soft contact lenses.

Available EXCLUSIVELY from Specsavers at great value for money prices.